04/06/2023
Sailing Towards Hope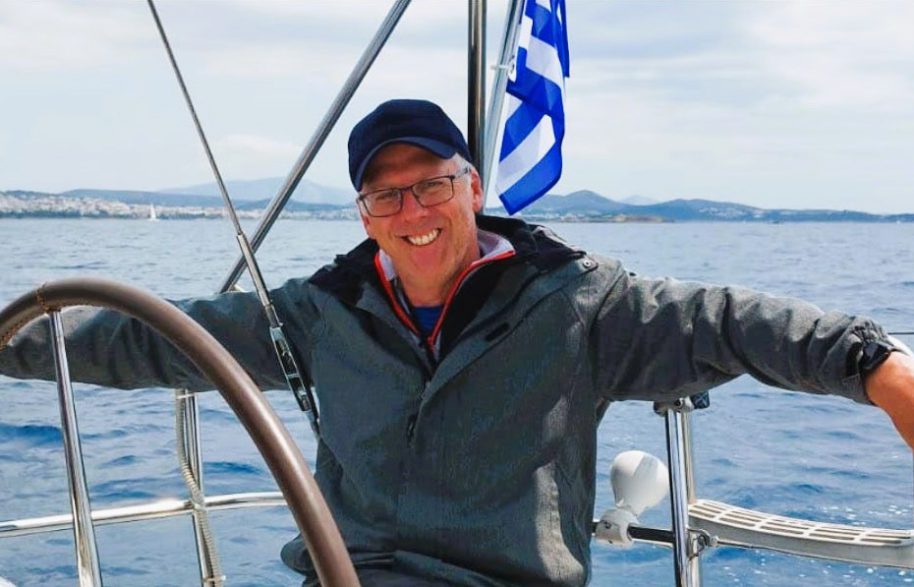 Stephen Fitzpatrick sailed with Oceans of Hope UK for the first time, on our Athens Challenge. He reflects on his life changing experience in this blog:
Approximately two years ago, during my search for group activities tailored for people with MS, I stumbled upon the Oceans of Hope website. The story of their achievements immediately captivated me. As a sailing enthusiast since my teenage years, I regularly sail a laser boat with friends on a nearby lake in Kerry. When the opportunity arose to participate in the challenge trip planned for a week in Greece in May 2023, I eagerly applied and was fortunate enough to be accepted.
Upon arriving at Alimos Marina in Athens, I met my crewmates, the skipper, and the first mate on a Saturday afternoon. Together, we boarded our vessel for the week, aptly named Roulette. Designed to comfortably house up to ten people with three toilets and showers, the boat provided us with a cosy home away from home. Our group consisted of nine individuals representing diverse backgrounds, ranging from a retired great-grandfather to a person in their twenties
Ultimately, more than 120 participants sailed across two weeks, distributed among nine yachts. Each boat accommodated approximately 8 to 10 people, forming tight-knit groups. Participants hailed from various corners of the world, including the UK, US, Australia, and Europe. Describing the experience, one participant shared, "It's like a camping trip on a boat, with each night spent at a different breath-taking Greek island."
The sailing routes in the Saronic Gulf offered a picturesque backdrop for our adventure. The philosophy of the journey was simple: do what you can and take breaks whenever necessary. Everyone understood the individual challenges faced by participants. Throughout the week, we sailed at a leisurely pace, spending a few hours in the morning sailing, pausing for lunch at idyllic locations, and then continuing for a few more hours before dropping anchor in a bay off a stunning island or docking at a quayside.
Our itinerary took us from Amilos to Aegina, Epidaurus, and finally Poros over the course of a few days. We then circumnavigated Poros and anchored for our final night away from the port. On the last day, we embarked on an early start for the long journey back to Amilos Marina. To conclude our adventure, the Greek MS society treated us to a delightful outdoor meal accompanied by traditional Greek music and dancing.
Spending a week outside one's comfort zone alongside fellow travellers on the MS journey proved to be a refreshing experience for the soul and spirit. As someone once put it, "Courage comes after you do something that truly scares you, and not before." Sailing on these boats proved to be inclusive for people of all abilities, as holding on while sailing was standard practice, benefiting those with balance issues. The boat itself was well-suited for the trip, with all sailing tasks easily managed from the cockpit if necessary.
Even standing still required considerable effort, a challenge well-understood by individuals with balance issues. The constant motion of the boat provided an excellent workout for leg strength, core stability, and balance throughout the day.
For those who often feel isolated due to MS, engaging in team-building activities like this had an enormous positive impact. Participants realized they were not alone, and they had the ability to contribute and support others. As a group, we all took turns sailing, cooking, cleaning, and looking out for one another throughout the week. The camaraderie and support were truly remarkable, and I consider myself fortunate to have formed lasting friendships with this incredible group of people.
It is astonishing to witness how individuals flourish in this environment, yet disheartening to encounter the simple barriers that await them back on dry land. For example, steps that are too big, lifts that are too narrow, ramps that are too steep and toilets that are inaccessible. These challenges serve as a poignant reminder of the importance of creating a more inclusive and accessible world for all.
Nevertheless, the truly remarkable aspect lies in how people learn to overcome the daily difficulties imposed by MS with grace and resilience. They exhibit true magnificence. For me, this embodies the spirit of the Oceans of Hope Challenge.
The Oceans of Hope Challenge serves as a powerful reminder of the strength and determination that reside within each of us, regardless of the challenges we face. It calls upon us to stand in solidarity with the MS community, supporting their journey towards empowerment and inclusion. Whether by donating to organizations like Oceans of Hope, volunteering your time, or simply spreading awareness about MS, you have the opportunity to make a difference. Let us embrace the spirit of hope, resilience, and unity that shines brightly through the Oceans of Hope Challenge. Together, we can navigate the waves of change and create a world where everyone, regardless of their circumstances, can sail towards a brighter future.
This experience has undeniably transformed my life. I extend my heartfelt gratitude to Robert, Nicola, and everyone at Oceans of Hope for facilitating this incredible journey. I would also like to give a special shout-out to the skipper, first mate, and crew of Roulette for their unwavering support throughout the adventure.
This experience has undeniably transformed my life. I extend my heartfelt gratitude to Robert, Nicola, and everyone at Oceans of Hope for facilitating this incredible journey

Stephen Fitzpatrick, Oceans of Hope UK Sailor