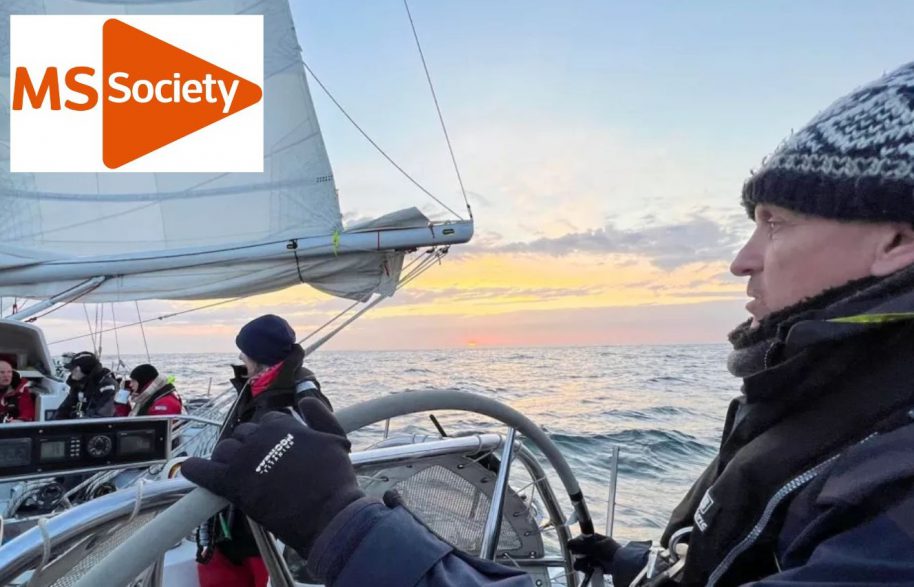 At Oceans of Hope, we organise sailing events and voyages where every crew member takes an active role. And, uniquely, every crew member also has MS. In this article for the MS Society, Robert Munns, CEO of Oceans of Hope UK, reflects on his own experience of MS and the inspiration for setting up the charity.
"I set up the charity with Nicola Kaufman in 2016. We'd met while we were both crew on board the Oceans of Hope, a 67-foot racing boat. We were part of an active crew of over 100 people, all with MS, sailing across the globe.  
That voyage was all thanks to Dr Mikkel Anthonisen, who I met at Brighton Marina in 2014. I was inspired by what he was doing through his organisation, the Sailing Sclerosis Foundation, and applied to join immediately.  
Oceans of Hope is about going beyond our horizon, geographically and personally. It's about challenging the mindset of disability, hopelessness and loneliness that can sometimes come with an MS diagnosis. 
I was diagnosed with MS in 2008 while on holiday in the United States. I had an attack of double vision which then put me in a Miami hospital undergoing tests and the resulting diagnosis. It was a very scary period of my life. 
I don't think I really began to understand what having MS meant until 2014, when I joined the crew of the Oceans of Hope. I realised my MS had been slowly sneaking up on me, shrinking the possibilities of my life. Like it dimmed the lights as I walked into a room. I'd been losing hope.  
I joined Mikkel's crew in the Galapagos Islands. That time on board was truly life changing. I gained a new perspective on my life with MS. Other members of the crew taught me about how they lived with MS. I discovered I wasn't alone. All that uncertainty and doubt MS had given me went away as I discovered my old self again. 
I came back from my voyage refreshed and totally re-set. I remember thinking it was like being given a fantastic gift – a giant cake! I knew then, that I had to make more of that cake and share it. That's how Oceans of Hope UK was born.  
Since setting up Oceans of Hope UK we've taken over a thousand people with MS out on sailing challenges. We've added to our sailing events and locations, providing greater accessibility and opportunities to learn. Our events give people with MS a safe and fun way to learn new skills, make friends and get out of their comfort zone.  
For our next event in May, we've got a fleet of boats in the Greek isles. We'll be exploring some beautiful places as a small community of people with MS. Everyone on board will be an active crew member. We'll work as a team and everyone will get the full experience of sailing a boat.  
The great thing about it being a crew of people with MS is everyone understands and supports each other. If you can't manage something one day, that's okay. Someone will take over, or swap you for something more manageable. Together we achieve two common goals. We have a beautiful voyage together that's fun and life affirming. And we explore the possibilities of living life to the full, despite this stupid disease."
The great thing about it being a crew of people with MS is everyone understands and supports each other. If you can't manage something one day, that's okay.

Robert Munns, CEO, Oceans of Hope UK